TREAT YOUR PLACE LIKE A HOTEL! – by Phil Reed Design
We are all spending more time at home, less time going to restaurants, travelling, staying in hotels and visiting spas. Our homes are becoming places where we work, exercise, socialise and relax, and the need for dedicated areas in which to do these activities is more important than ever for our work life balance.
We need a space to concentrate in or take a work call away from everyone, a place to eat and catch up with family and friends and a tranquil place to relax and gain head space.
Great hotels are expert at perfectly segmenting space to create different environments and although you may not want to think of your home as a hotel, it's your hotel and your rules!
For years the main living area has been an open-plan extended kitchen, with enough space to sit, eat and catch up with the kids. Now this central family hub needs to transition into so much more: At various different times of the day, it needs to function as an office, café, gym, bar and restaurant. Hence the 'broken-plan' space is more applicable to how we live today: Space partitioned into loosely defined zones with the help of screens, bookcases or even just through artful positioning of furniture.
The key to achieving a multi-functional living environment, that neither feels too clinical nor too cluttered, is well considered design. By creating a series of micro-zones within the home it is possible for it to feel practical, comfortable, luxurious and calming, within the same space.
KITCHEN LIVING:
The kitchen as we know it is changing. Traditional units are transforming into bespoke living room furniture, islands are becoming natural stone sculptures and appliances are stealth-like, integrating seamlessly into surfaces or disappearing into beautifully crafted feature cabinets.
The kitchen is now camouflaged by its surroundings. At the end of a day's work at home the space has the ability to metamorphosize into a luxurious hotel lounge bar or restaurant, with dinner ordered and delivered by the local restaurant and our home 'smart' concierge service (Alexa) setting the ambient lighting and music.
Kitchen Colour + Stone Direction:
Rich, dark, opulent colours are key. Exotic, natural stone surfaces create stunning patterns and textures like pieces of abstract art. Their unique visual qualities, millions of years in the making, add to the sense of bespoke luxury.
Mix and match marble, granite and onyx by choosing colours or patterns that either compliment or contrast with each other. Treat brass or brushed gold fittings as finery with which to adorn the room. Rich natural greens continue to feel right for this sense of opulence and the emergence of ruby red, brown and pink combinations deliver unexpected modernist retro glamour to our homes.
Dark blue and jade hues continue through into 2021, with 'Classic Blue' Pantone 19-4052 taking the top spot for 'Colour of the Year 2020'. For a bold seductive feel go for black stone in a honed finish to create beautifully tactile matt textured surfaces.
Stones Highlighted: Patagonia Desert, Black Forest, Black Vermont Granite, Rosso Luana, Belvedere, Silver Wave, Marinace Verde Granite, Marinace Black and Gold, Verde Lapponia, Calacatta Viola, Lemurian Blue.
HOME SPA:
The bathroom now takes on the role of a luxury spa, becoming an important sanctuary away from work, screen-time and the stresses of everyday life. A place to escape to, for relaxing and contemplating. Somewhere to luxuriate in a calming sensory environment that revitalises and rejuvenates.
The mix of natural stones and light woods help us to feel in touch with nature and all its health benefits. Spoiling ourselves with a hotel style twin vanity unit will afford us time and space to contemplate the day or wind down before a good night's rest.
Bathroom Colour + Stone Direction:
Calming colours are key to this space, whether with the soapy opaque colours of onyx, or the light neutral, silver beige, caramel or sand tones of veined marbles. Strengthen the scheme with the introduction of black and either contrasting stone or feature black bathroom hardware and framed shower screens.
Soothing curves in interiors are back on trend: Rounded ends to worktops, circular basins and baths, as well as capsule shaped mirrors and lights add a contemporary edge to the space.
Dusky pastels are still looking strong as a trend for 2021: Interior design companies have invested in producing a wide range of pastel coloured sanitary ware and tiles. Confidence is growing for these schemes and a desire to have statement pieces in colours mean that natural stone surfaces in these colours are becoming more popular.
Textured stone can also be used to create a calming environment by contrasting matt textured materials with smooth gloss finishes. Light reacts differently on the contrasting surfaces, elevating sensory experience in the room through surface interest.
Stones Highlighted: Light Emperador, Black Forest, Silver Travertine, Arabascato Corchia, Silver Moon, Crema Marfil.
THE BEDROOM SUITE:
Whether relaxing into bed or getting up and ready for the day, the bedroom suite is now more than ever a place to feel calm and unhindered by the outside world.
Everything is easily accessible and beautifully practical: The bedside arrangement features only the essentials for a great night's sleep; a great book, a glass of water and a clock. Much as you would find in an amazing hotel the bedside lights are configured to the wall, lighting up the headboard or feature wall which becomes the star of the show!
The natural stone headboard or feature wall which frames the bed has grown in popularity with interior designers. 2021 will see this trend grow. Individuality and timeless bespoke designs are becoming more important than ever before. They are investment pieces that live with you for many years and which already have a history and a story attached to them and because of this they are much more appealing than a mass produced, throw away product. The interior mantra has once again reverted to 'buy well and buy once'.
Bedroom Colour + Stone Direction:
With so many amazing individual natural stones available, there is a huge amount of choice when it comes to selecting surfaces for your home. Our advice is to be brave and to go with your heart over your head! It will probably be the biggest investment piece in the bedroom, so go bold and beautiful, with abstract patterns and shapes, or extreme contrast veining, or a stone that will shimmer and glow when back lit or lamp lit. Natural stone is an exquisite, luxury product that will elevate any bedroom suite to five-star hotel status.
Stones Highlighted: Black Marquina, White Onyx, Patagonia, Panda White, Calacatta Verde, Jurassic Green, Polished Jade, Opera D'arte.
HOME WORKING:
Having the office space of your dreams will make you feel like the CEO.
A bespoke desk, a stunning flooring or a feature wall in beautiful natural stone feels indulgent in a workspace and gives us a connection to nature, which is in contrast to most corporate workspaces we encounter.
It is second nature to express our personality in our homes. Now we have the opportunity for this individuality to spill over into our work lives. Why not make the space more conducive to work and more comfortable through the use of materials that delight and inspire us to work more creatively.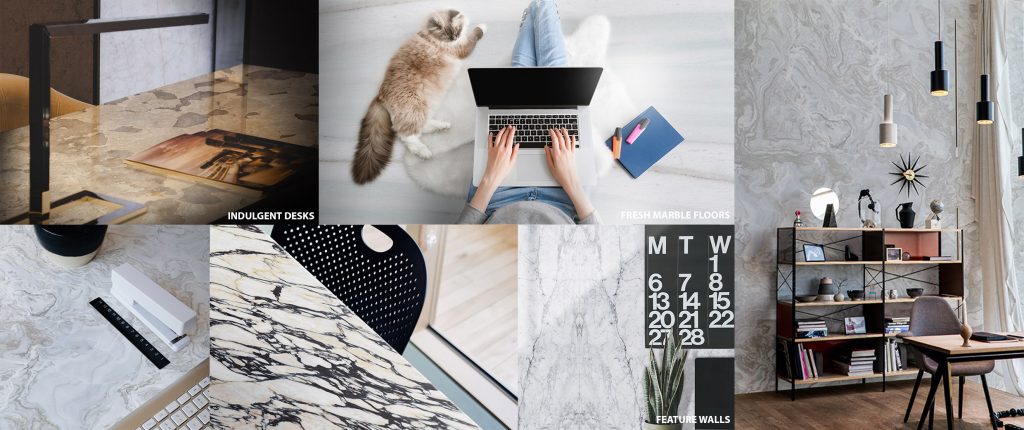 Home Office Colour + Stone Direction:
The right stone to choose really depends on the type of application, the budget, the lighting and the location of it in our homes. Most importantly select stone that makes a statement and helps to create a space which feels indulgent and aspirational, with a sense of familiarity. The materials that we surround ourselves with, have a huge impact on our mood and our ability to focus and should reflect our tastes and sensibilities.
Stones Highlighted:Patagonia Desert, Aqua Marina, Avalanche, Calacatta Viola,
Follow @geraldcullifordlimited and @philreedinteriorimaging for up to date natural stone and interior trend information.
2021 KEY TREND OVERVIEW
Eclectic Mix of Old and New, Contrasting Surfaces, Statement Pieces, Dark Blue- The New Black, Mix of Traditional and Contemporary, Light Woods, Natural Elements, Tactile Surfaces, Sustainability, Human/Nature Connection, Elegant Grey Interiors, Multi-Purpose Environments, Hybrid Homes, Neutral Colour Schemes, Luxury Feel, Modern Rustic, 'Buy Well and Buy Once', Individual Personality, Material Mixes, Rich Dark Hues, Glamour, Curves, Black Highlights, Antiqued Brass, Bold Patterns, Broken-Plan Living, Twin Basins, Matt + Shine, Mix natural and technological, Timeless Pieces, Stealth Kitchens, Beautifully Aged, Curated Over Time, Flexible Spaces, Colours of Nature, Investment Pieces.