Choosing the right surface for your home is largely based on the colour. Obviously the material needs to be suitable for the individual project, but generally the colour is the first thing we are attracted to.
Most paint companies create interior palettes annually, their newest colours can be introduced to the customer relatively quickly to be in line with the changing trends. Customers can then completely change the feel of their home with a new lick of paint. Investing in a natural or manmade stone surface is entirely different, and so it should be, as we want our products to become an integral part of your home, chosen carefully, to last the test of time!
We have developed two stone colour palettes that are complimentary to the paint colour trends of 2022. They are created to have longevity depending on the accompanying wall colour or home accessories you choose now, and in the future.
HOME STUDIO:
Our 'Home Studio' palette is warm and compliments the earthy and neutral tones, such as beige, brown and terracotta, that we see emerging as an interior trend. The surfaces chosen for this palette work perfectly with pink and grey hues, as well as with warmer honey and sand colours. They look harmonious with natural wood shades and give our homes an authentic crafted feel.
Stone Key:
Travertine Silver Onice Pesca (Cullifords Ceramic). Jordan Pink. Super White. Colonial White
Verde Cristina. Crema Marfil (Cullifords Ceramic). Fusion Fire. Jupurana Indiano. Radianz Alluring Quartz
Lemon Spice Pulpis Bronze (Cullifords Ceramic). Juparana Bordeaux. Breccia Capraia. Andromeda White
Verde Karzai (Cullifords Ceramic) Basaltina Sand (Cullifords Ceramic). Rosso Damascus. Arabescato Orobico
GARDEN ROOM:
'Garden Room' is a palette inspired by the beauty of nature, with fresh botanical greens, blues that remind us of the clear skies and sea, and soft beach tones which feel luxurious and timeless. Our indoor and outdoor spaces are merging more than ever, with such a fine line between the home and garden these materials create a perfect connection.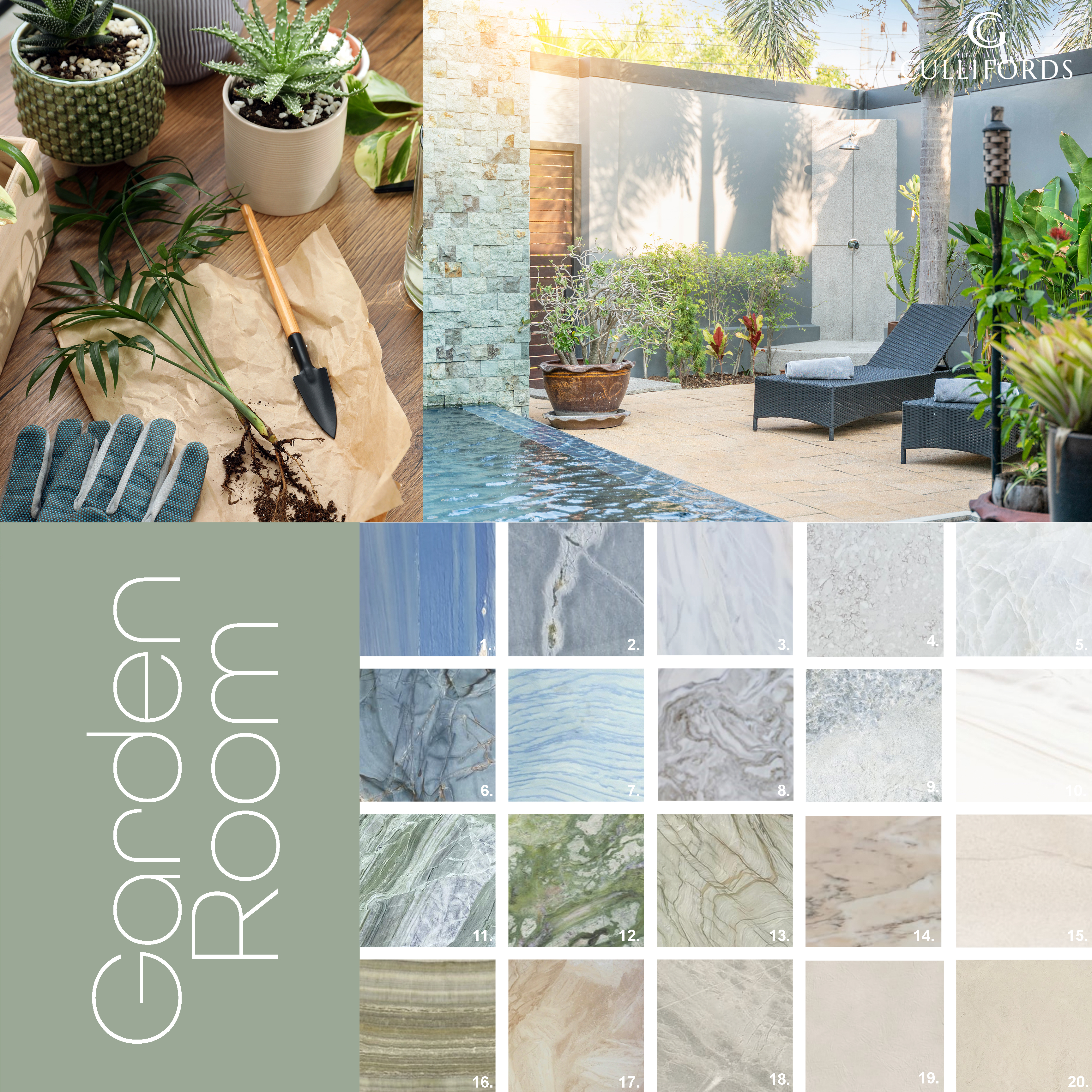 Stone Key:
Azul Macaubus Atlantic Stone. Bianco Covelano. Radianz Alluring Quartz. Crystal White
Roma Blue. Azul Macaubus. Avalanche. Crystal Sky (Cullifords Ceramic). Bianco Covelano (Cullifords Ceramic)
Jade River Brilliant Green (Cullifords Ceramic). Fusion Wow. Crema Evora. Basiltina White (Cullifords Ceramic)
Green Onyx (Cullifords Ceramic) Daino Reale. Blue de Savoie. Calce (Cullifords Ceramic) Moleanos
Please contact our team of experts who will be happy to advise you on the suitability of these stone surfaces for your interior project.