Having spent a lot more time indoors than we usually would over the colder months, a lot of households are starting to plan and think about a garden overhaul or uplift. Whether you're starting from scratch and planning your dream outdoor space, or you want to spruce up your existing patio ready to entertain family and friends, there are a number of trends and style ideas for exteriors.
Contemporary & Sleek
Perfect for the minimalists, you can be just as pared back in your garden as you are in your interior. From sleek paving to contemporary furniture, opt for dark accents to complement any greenery, or if you're working with a terraced or patio area, consider adding some decorative aggregate or pebbles around your borders to create a modern yet inviting overall aesthetic.
Inviting Greenery
Much like within interiors, plants can create a warming and inviting atmosphere. The current trend for 'rewilding' might be a step too far for you but you can still create a wonderfully welcoming garden by carefully filling it with greenery and plants. The key to creating a feeling of cosiness within your garden is to have plants at different levels. Starting from your lawn, to potted plants at different heights and then if you can some taller shrubs, bushes and trees in flower beds.
Outdoor Feature Walls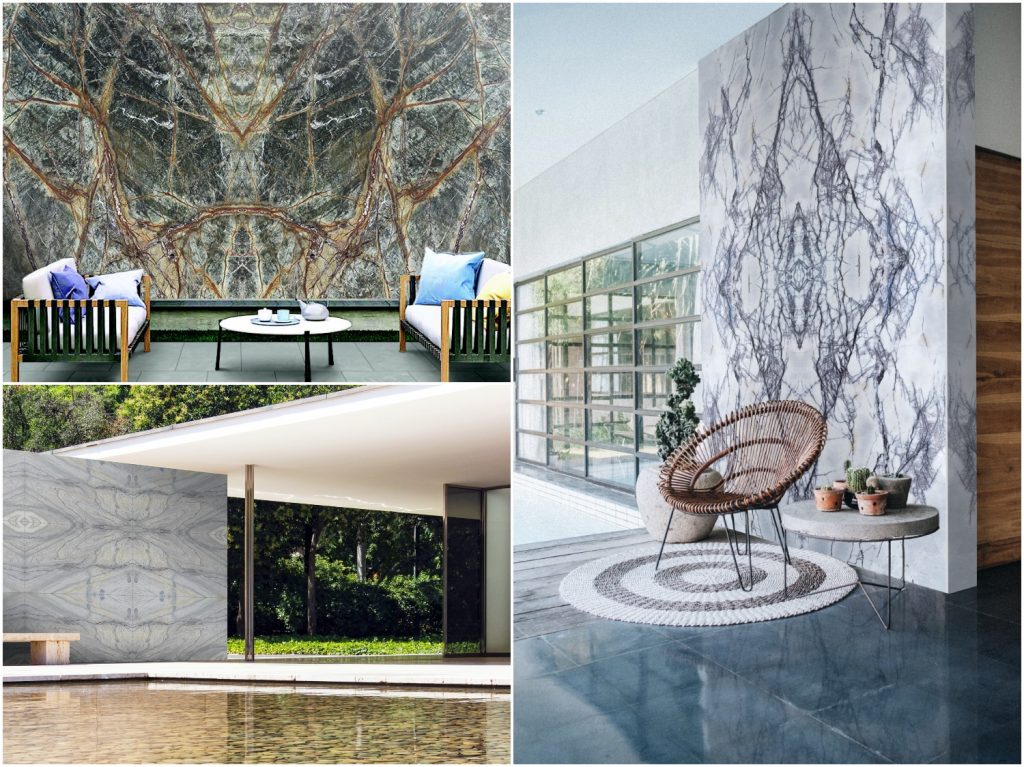 Feature walls are as big of a trend outdoors as they are indoors. From eye-catching bookmatched marble slabs to stunning dining area backdrops, an outdoor feature wall will take your outdoor scheme to the next level of luxury. Team with clean-lined furniture for an overall smart and sophisticated finish.
Outdoor Cooking & Entertaining
Interest in outdoor kitchens and cooking areas has soared over the past year in particular. Taking the heart of the home into the great outdoors is something we will be seeing lots more of, but it's something that does need to be planned carefully. Worktop and surface choice for your outdoor kitchen area needs to be carefully considered. You will need a material that can withstand the great British outdoors – from water resistance to UV resistance and of course the usual practical necessities of scratch and stain resistance, it's important to choose a material that will hold up against the elements.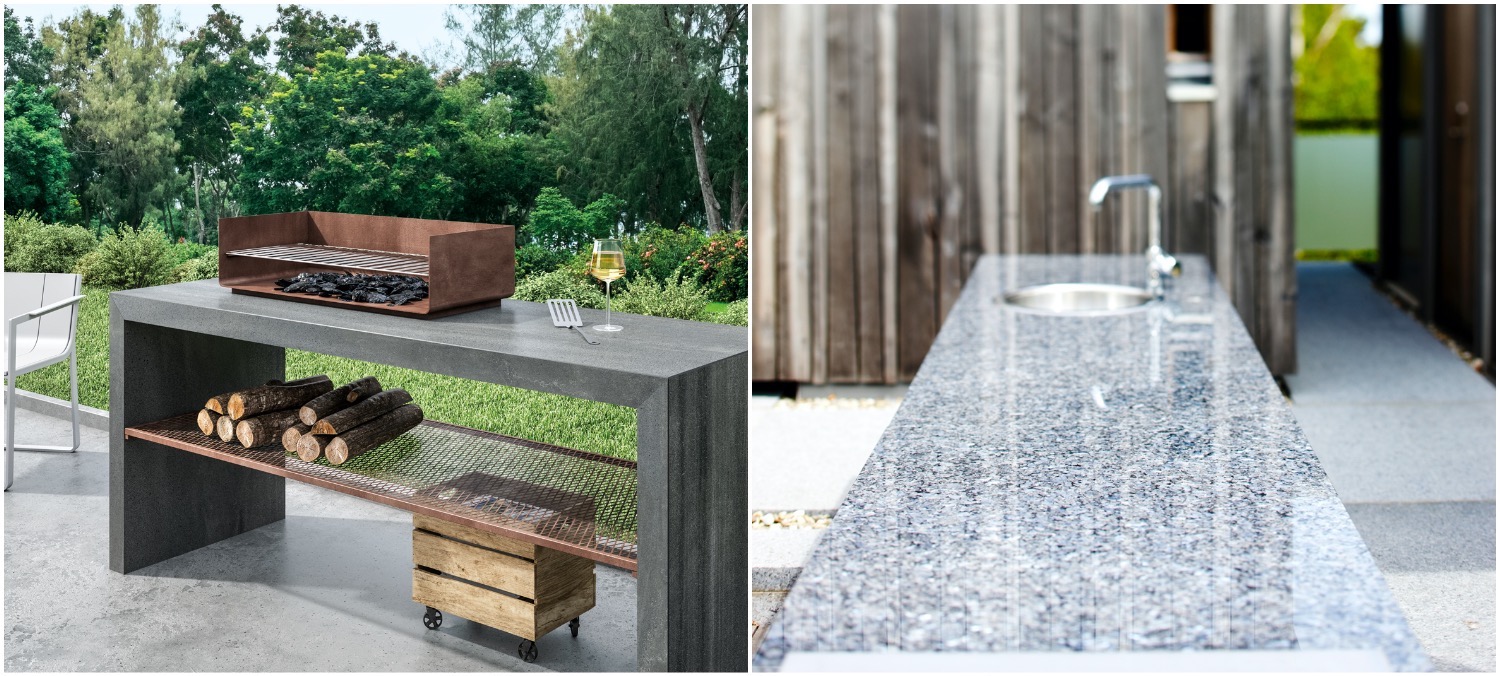 Norwegian natural stone from Lundhs Real Stone is an excellent choice for outdoor kitchens. Boasting from heat, UV, stain, water and scratch resistance, it is the ideal outdoor surface choice thanks to its low porosity and completely natural qualities. SapienStone ceramics are also a great choice as it is heat, light, scratch and chemical resistant thanks to its unique manufacturing process.
Firepits & Cosy Seating Areas
From contemporary firepits to comfy sofas filled with cushions and blankets, cosy outdoor seating areas have become increasingly popular as we spend more time with friends and family in our gardens.
You can go for a contemporary or a more rustic feel with these kind of areas in the garden. For a more modern feel, think of a glass firepit in the middle of a contemporary table paired with a monochrome palette on your furniture and soft furnishings. For a more informal and rustic approach, opt for a freestanding firepit or chiminea and surround it with outdoor rugs, pouffes and plenty of blankets and candles!
Zone your garden
Much like with indoor open plan living, an outdoor space can be zoned into different areas. Zoning your garden will give it an extra dimension and added interest and if done nicely will create a truly inviting exterior space. Zoning can be achieved through different types of surfaces on the floor – split your seating areas, walk-through areas and dining areas using a mixture of outdoor surfaces, from decking and tiles to grass and pebbles. Zoning can also be easily achieved by working with different heights. A sunken seating area and a raised dining or sunbathing area will create a visually interesting outdoor area whilst clearly defining the different zones in your garden.