Gerald Culliford Ltd's top materials for outdoor cooking areas
If you are like me and cannot wait for warmer sunnier days, those long lazy summer evenings sat in the garden with a G&T and the BBQ fired up, then to take your mind off this cold weather we are going to look at our top surfaces for use in outdoor areas, be it for a BBQ Surround, outdoor dinning table or for something to add to your garden furniture to give that touch of class to your garden.
Topping the list is LUNDHS Real Stone
LUNDHS Real Stone of Norway is formed in such a unique way that this is one of the most durable natural surfaces with a porosity rating of 0.002% which is less than some man-made quartz. It is scratch and heat resistant and requires such little maintenance it is perfect to use in an outdoor situation. Don't worry if you spill oils or cooking sauces on this material as it is very unlikley to do any damage before you clean it up, we are not saying this material is completely bullet proof but if I was being shot at I would feel safe behind a slab of LUNDHS Real Stone.
Visit their website here to read more about the Norwegian company and their philosophy of providing the best materials from their quarry to your home. Crafted by Nature. Refined for Living.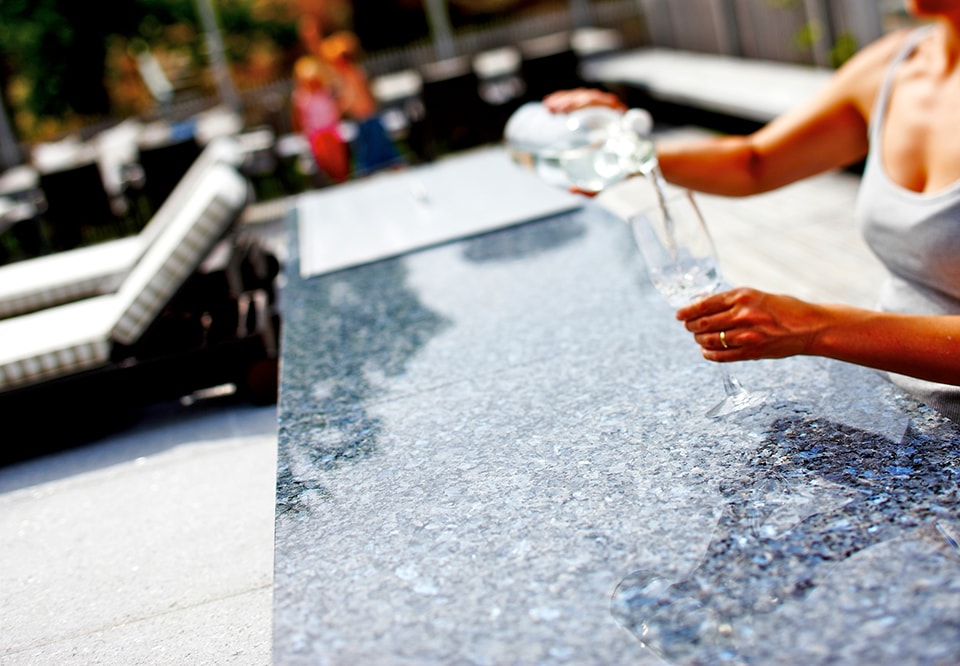 LUNDHS Comes to the UK in 4 different colours and available in multiple finishes, the most popular being polished and Satinato/Silk. All suitable for indoor and outdoor.

Next up we have Sapien Stone
The newly launched full-bodied Ceramic slabs coming from Italy. Ceramic is rising in the ranks of one of the most popular surfaces available on the market and due to its durability and how light weight it is makes it perfect to add that touch of class to your garden furniture. Click here to view stock.
Sapien Stone have partnered with TPB Technologies of Barcelona to integrate a top of the range induction hob matching the colour of the work surface, you will need imagine yourself sat in the garden cooking a Seafood Paella on your outdoor hob and sipping on some Sangria.
Sapien Stone will be showcasing this technology next week at the KBB Birmingham.
Why not contact us to enquire into upgrading your garden furniture to include one of the many Sapien Stone colours available or better still to include one of the TPB Induction hobs to enhance your outdoor dining experience.
Lastly, The ever popular Granite
Now some of the materials we supply can be softer and more porous than others but plenty of the granites we supply are very hard and durable and would be suitable for outdoor use, maybe not as hard as LUNDHS (let's call LUNDHS a Super Stone) but at Gerald Culliford Ltd. our very knowledgeable team will be able to listen to and understand the look you are trying to achieve and best advise you on the most suitable stone for its application.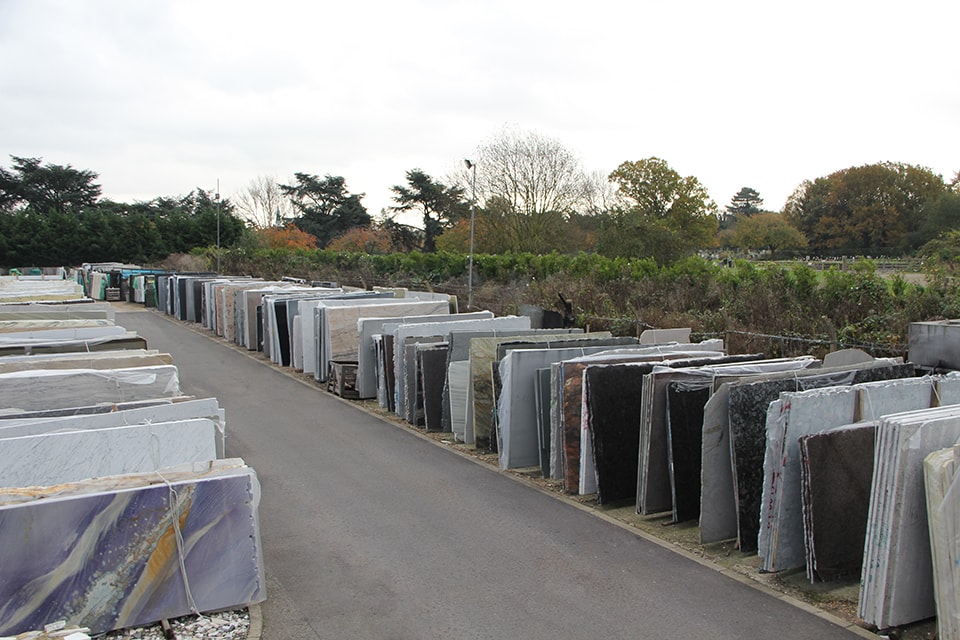 Our yard has a wide choice of materials many of which will be suitable to use in outdoor cooking areas, come and visit us and speak with one of our stone specialists who will help you in selecting the correct materials for your project.
If you would like samples of any of the products mentioned in this article please email us or call 0208 390 4656 and we will be happy to help.