When it comes to people's homes and interior design trends, there's no denying that recent years have seen an increase in the use of colour, detail and overall standout surfaces. As people have become more adventurous with their choices, we have noticed the demand for more vibrant and unique pieces. Whether it's through colour or distinctive detail, people are looking to make a statement with their surfaces.
There are a number of factors that influence our choices when it comes to our homes, in particular our surfaces, as we will be more often than not living with them for a long time. The confidence in using more unusual colour combinations and being braver with choices in general could come down to the fact that there is currently less speculative building work occurring. People are staying where they are and moving house less and as a result are making braver choices when redecorating their current homes. There was a time when every decision made about your home had to be considered very carefully as you had to take into account how your choices might affect the appeal and value of your home when you came to sell it. The less worried people are about whether a design feature or colour choice will affect the sale of their house, the more likely they are to choose something they really want to show off and enjoy.  


Green Onyx

Arabescato Orobico
When looking into surface trends, at Cullifords we are part of an intricate cycle where we are able to notice what designers are liking from our existing range as well as what they are asking us to source. The more we are asked to source particular colours, the more we are likely to stock it and feel that there could be a greater demand for it. A recent example of this is how we saw the trend for pink and green surfaces develop. By having it in stock and promoting it, we then create more interest and the colour trend takes off and develops from there.
Colourful and Detailed Slabs

During the recession, the volume beige and plain colour business fell and people were looking for higher margin products, which is in part why companies turned to marble. It could be argued, that we are currently at a similar inflection point where companies are looking for new product at the top of the cycle and designers have had enough of the grey look. Colours are starting to clearly push through as they offer more vibrancy and warmth, the question is whether this trend will grow in strength or whether manufacturers won't be brave enough to produce very colourful finishes and the market returns to beiges and creams instead of going down a more vivid statement route. Here at Cullifords, we're hoping for the latter, as we can offer a huge range of amazing coloured slabs and we're really enjoying seeing the UK be a bit more adventurous when it comes to surface choices.


Marinace Verde Granite


Marinace Black and White Granite
The trend towards more terrazzo looking surfaces, or brecciated stones, is something we have seen develop alongside the demand for more colour. Offering a bit more of a retro look, this demonstrates a move away from the plain to something a bit busier in structure. Characterised by exquisite depth and wonderful detailing, our Brazilian Marinace Verde and Rosso granites bring a true sense of unique style and nature to an interior scheme. Teamed with natural materials and matching colours, this stunning cloakroom setting is the perfect example of how a statement surface can truly transform a space. Ranging from a deep intense red shade to a lighter crimson, the Marinace Rosso granite is certainly not for the faint-hearted! Characterised by its pebble-effect shapes, the beautiful pattern and vibrant naturally red stone is guaranteed to leave a lasting impression, in particular when used as a wall feature.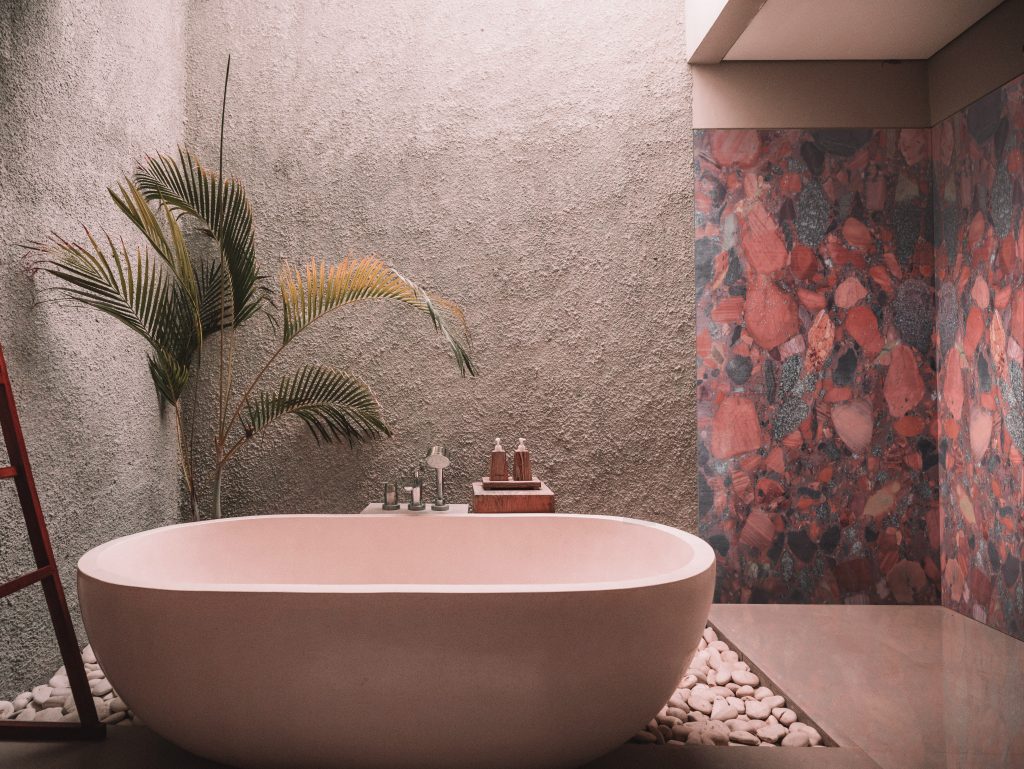 Statement Surfaces
Here at Cullifords, we source some of the world's most unique and exotic surfaces with our dedicated yard in Kingston Upon Thames housing more than 3000 slabs. From standout granites to exquisite marbles and beautiful onyxs, some pieces can really be considered pieces of art and we are noticing more and more people thinking about their surfaces in this way. Whether they're considering a wow-factor kitchen island or an eye-catching bathroom splashback, there are plenty of ways to make a statement with stone.


Lemurian Blue Granite

Lemurian Blue Granite
One of the most unexpected statement stones is granite. Often to people's surprise, there's more to granite than just grey! Our collection of granites is made up of the world's finest slabs, originating from locations such as South Africa, Norway, Italy, Brazil, India and China… amongst many others. A truly striking granites, Lemurian Blue is formed of blues, blacks, greens and gold swirls. Ideal for those looking to make a standout statement, this dramatic granite works particularly well as a feature wall in a bathroom. Full of character, the Brazilian Patagonia granite also promises to make an impact. An exquisite combination of wispy white, brown, black and cream colours create an eye-catching pattern whilst remaining versatile enough to work in a variety of spaces thanks to its neutral colour palette.


Patagonia Granite

Patagonia Granite
The great thing about natural slabs is that each one is unique and gives people the opportunity to do something different and ultimately have fun. There is very little these days that's not made in a big factory to a predesigned pattern and sold on mass, so a unique piece of stone gives you some individuality and freedom. Quite often, our customers make the trip to our stone yard to choose specific materials as it's a big investment and as the pieces are so unique, they need to be sure they are happy with what they're selecting. People are inherently scared of the design process, but natural stone gives you something you can truly fall in love with and it will always look great.
Italian and Colourful Marbles
The marble look is still very much the most popular trend at the moment in both kitchens and bathrooms and we don't foresee this changing any time soon! However, whilst white marbles are still king, we are noticing a slight move away from the more classic, plain white marble towards something busier in structure, like the Opera d'Arte marble.  A truly unique and exotic marble, Opera d'Arte will add an impressive statement feature in the home. Filled with pattern, the colourful marble has an exquisite depth of colour and detail, from a deep intense violet shade to a lighter lilac and even hints of green. Another standout marble is White Beauty. Ideal for those wanting to inject a true sense of originality into their interior scheme, White Beauty features a unique eye-catching green, white and black detailing. Perfect for a statement kitchen island as seen here, White Beauty is certain to create a true standout feature.


Opera d'Arte Marble

Arabescato Corchia Marble
Whether you're looking for bold coloured slabs or a unique piece of marble, Cullifords is the go-to destination for true statement piece materials for any application in the home, whether it is for your kitchen worktop, your bathroom walls or your fireplace surround. To find out more why not explore our slabs or visit our dedicated yard.