As the busiest and most used room in the home, the kitchen is often one of the key places that individual styles and tastes tend to be reflected.
This year, we have noticed a strong desire from homeowners and designers to create truly unique schemes, and one of the ways this is being carried out is through mixing materials and finishes.
Whether it's through incorporating a mixture of matt and gloss surfaces or opting for a variety of wood tones, this approach to design offers true flexibility and allows homeowners to inject a real sense of identity into their homes.
The perfect example of how to successfully combine a variety of colours, finishes and materials in the kitchen, this East Sussex home brings together a host of unique elements resulting in a beautifully balanced scheme.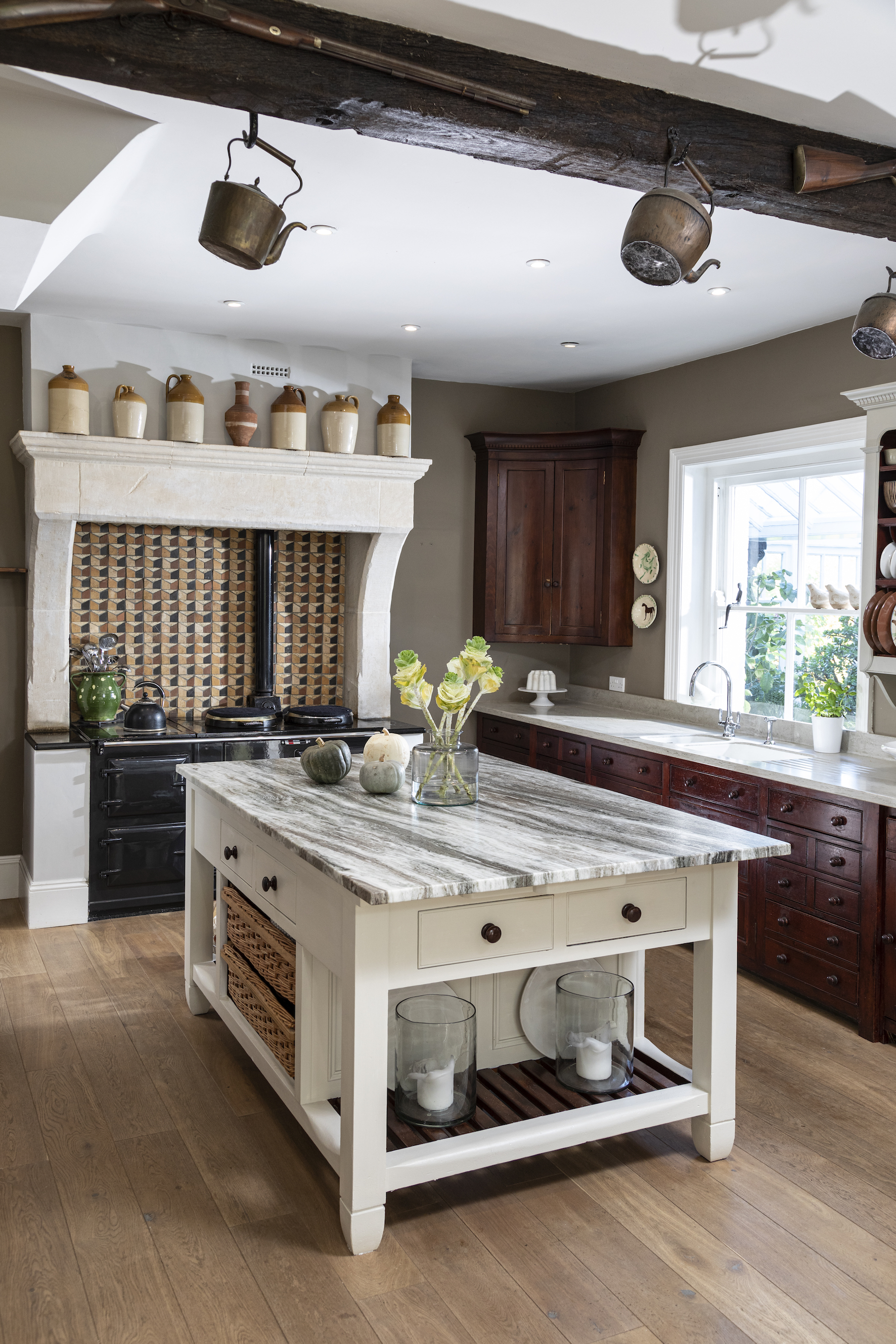 Chosen to adorn the freestanding central island top, the eye-catching Terra Bianca hard marble acts as a focal point in the room. Characterised by striking veining and natural brown, grey and white colour variations, the 3cm Satinato worktop pairs beautifully with the white paint of the island cabinetry. A stunning contrast to the deep mahogany run of cabinetry and wall-hung cupboard, the opposing colours create a distinctive and characterful look.
Tying individual details of the scheme together in a corresponding palette, the statement splashback geometric tiles behind the AGA inject a playful and unique touch to the overall space. From the lighter tones of the wood flooring to varying wicker textures, the mix of colours and materials in this kitchen blend together to create a truly harmonious look.
Here at Cullifords, our collection boasts a whole host of statement natural and man-made stones that can add a focal point to any interior project. From classic marble standout slabs to colourful and detailed brecciated stones, our yard of over 3000 slabs is guaranteed to deliver that touch of uniqueness you're looking for. For advice on finishes and suitability of different materials, our experienced and knowledgeable team will take you through everything you need to know when selecting your ideal surface.