With 10 years experience working at Cullifords and seeing hundreds (if not thousands) of customers choosing their new work surface. There are certain questions or statements we hear from customers time and time again when making a decision. Probably the most common is "we can't have marble in our kitchen can we?" or "we have been told by our designer/kitchen company that we can't have marble".
Having read a few articles and done various tests on untreated natural materials, there was little argument from myself on the matter. I would then move on to the huge number of Hard Quartzite, Granite, Ultra-compact or Engineered Quartz options available to see in our yard.
Alongside this reluctance to consider marble, we have many customers adamant on choosing it for their own kitchen. So this begs the question "What is it really like living with a marble work surface?"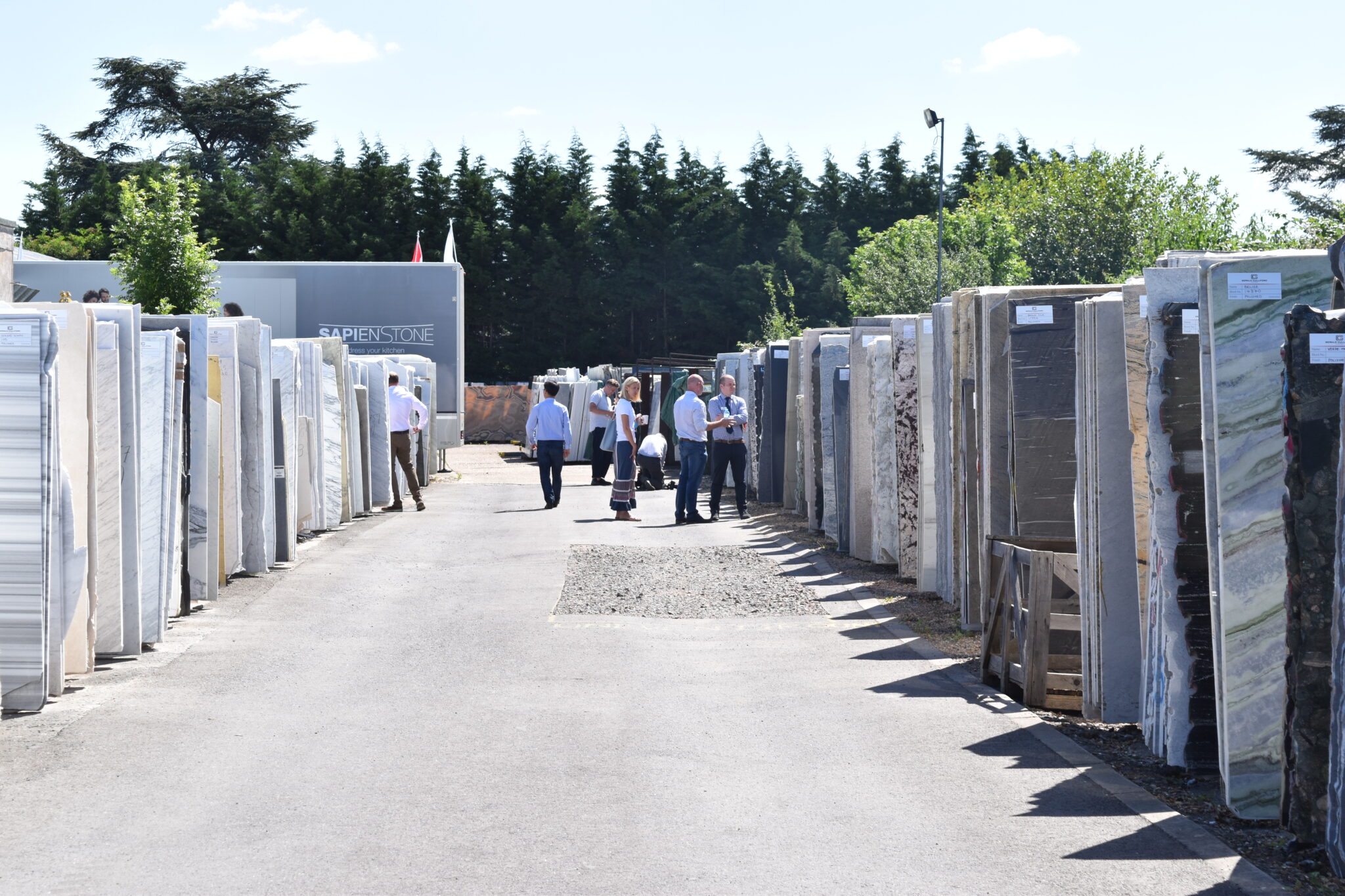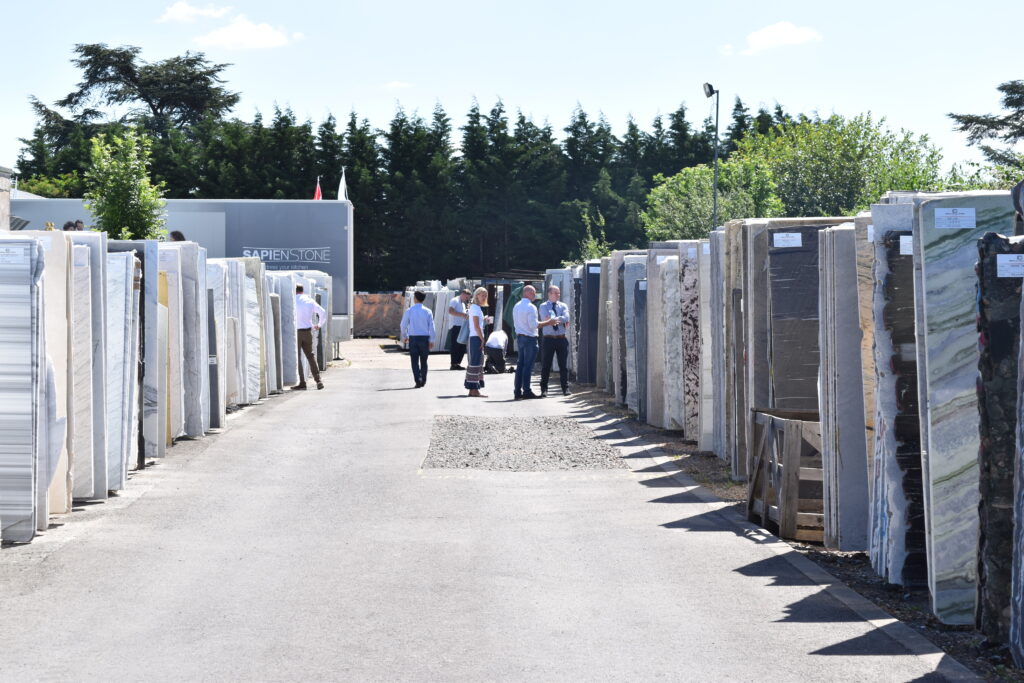 Selection
To answer this question with any degree of accuracy, it's beneficial to have personal experience of using a marble surface. So, when myself and my family were fortunate enough to have a new kitchen going in, I thought it was a great opportunity to live with a marble work surface and see for myself how it performs. By having it myself, I could see if it should be so easily dismissed. Please note my wife was fully on board with this experiment!
Having a North facing garden, we wanted a light surface but not overly busy. This led us to the Cullifords staple, Carrara marble. Carrara is one of the most popular and readily available white marbles and therefore relatively sustainable. Particularly when comparing to Quartz from the far east for example. This was definitely a factor in our decision making. Having a look at the numerous blocks of Cararra Cullifords had in stock, we settled for a Block 6264.
With the knowledge I did have of Carrara and most marbles being used in a kitchen setting, we decided on a honed finish. The main reason being, it helps disguise the potential etch marks that can occur when acidic substances make contact with the surface. With a polished finish, these marks would be more noticeable on areas of reflected light (see images further down in the blog).
Sealing
After installation, it's advisable to allow the material to dry out for a few days prior to sealing. A surface can appear to be dry to the touch but the use of a moisture detector is useful for clarity. Luckily in our case, we had plenty of time after worktop installation and moving back in. This meant it was guaranteed to be very dry before it got its first use.
In most cases, the fabricator will seal your work surface after installation. They will determine how much sealer should be used dependent on the material. When looking at sealers, I was keen to use what we believe are the best sealers available and I opted for Dry Treat Dense Stone Impregnating Sealer. After checking the coverage for the type of material (Honed marble/10m2 per litre) I was having, I was ready to seal.
If you are not confident on carrying this process out yourself, then the stone fabricator will be happy to do it. In this instance, I was keen to understand a little more about the process, so undertook the job myself. Detailed instructions are available on the Dry Treat website as well as various Youtube videos that can help you do the job properly.
After sealing, the surface mustn't be used for at least 24 hours and then will fully cure completely a few weeks afterwards. When sealing, the material initially went quite a lot darker. To my great relief the stone was back to its normal colour the next day.
Practical Use
Having seen marble taking in water (in the form of raindrops) at our yard on countless occasions, I was astonished at how well the sealer performed in repelling water. Any spillage beaded up on the surface as pictured above (links to videos). So the good news is that the sealer repels water, but what about dreaded stains like tea, coffee, soy sauce etc?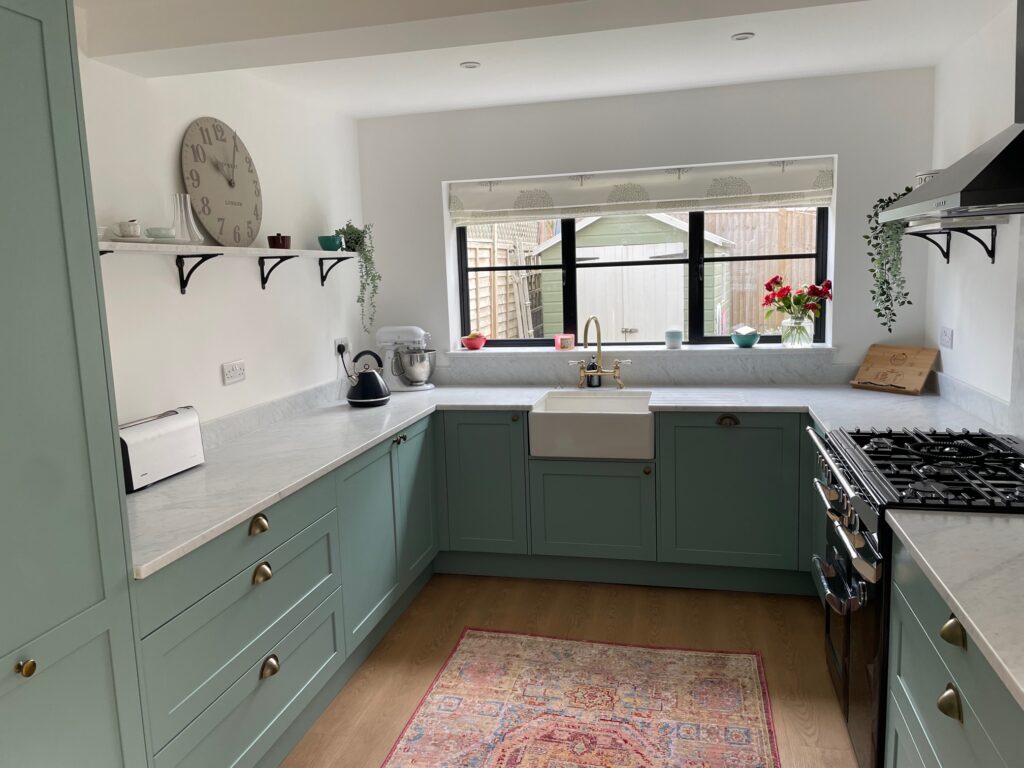 After 6 weeks of living and regular cooking, I am yet to report a permanent stain of any kind! I should note that we are adventurous cooks using a multitude of spices and sauces regularly.
On one occasion while we were baking cakes with the kids, an attachment for the mixer was left on the surface. The attachment must have had butter or oil on it, and was subsequently left on the top for a prolonged period. This resulted in an oily mark in the stone which I unfortunately didn't get a photo of. In this instance I made a poultice from Dry Treat Oxy_Klenza. This was a very straight forward process and to my amazement, the oil mark disappeared after 24hours.
Etching
So now you might be thinking, "Great! there's no reason not to get a marble work surface". Well, despite the amazing results from my impregnating sealer, there are downsides to having marble. One issue we have experienced a few times is acid etching.
Due to the high percentage of calcium (or calcite) in most marbles, it can be susceptible to etching from acidic substances. Although the sealer does a great job of repelling substances, contact is still made on the surface. This can lead to the acidic liquid (fruit juice, vinegar etc) eating the calcium in the stone and leaving a patchy mark as shown below. The mark shown in the image is around 3 weeks old and is less noticeable than when it first occurred. Also, as stated earlier in the blog, the kitchen faces North and therefore not a huge amount of light flows in. This undoubtedly makes the marks more difficult to see.
There are a few of these in the kitchen but to notice them, you would need to bend down to a certain level and catch it in the light from the window. As shown in the image below on the right, it is unnoticeable from different angles.
Scratching
Another potential sticking point would be that generally speaking, marble is softer and susceptible to scratching. At Cullifords, we put marble into three categories: Hard marble, normal marble and decorative marble. Carrara would fit into the normal category. The harder types will be less easy to scratch and decorative more so. Where we had kept a ceramic utensil holder and it being moved, this has lead to a couple of scratches. However, as you can see in the image on the right, they are a little less noticeable in reality.
The benefit of marble however is that the surface can be polished/honed in situ. There are companies who can come out and bring it back to it's former glory if you want. This cannot be done with a quartz or porcelain surface in the same manner. In our case, we are quite happy to live with the odd mark/scratch as it stands.
Taroli
Taroli is a term used in the stone industry for a natural occurrence in marble and most prominently in Carrara. They are small sand holes or pits in the surface of the stone. All stone blocks that are quarried are treated by introducing a clear or colour matched resin. This will fill any imperfections that are inevitable with natural stone to create a smooth surface. Some of these pits are so small that resin cannot take hold and therefore a small hole is present. This is completely normal and does not mean that your slab of marble is defective in any way.
Some blocks have more Taroli than others and at Cullifords, we lay out our slabs on special racking systems. This allows you to view the entire slab carefully and make a much more informed decision.
Conclusion
So, can you have marble in your kitchen? The answer is yes, of course! The information in this blog is intended to inform you fully of the realities of living with a marble work surface. When I walk into the kitchen, I know 100% that i made the right decision in going for marble. I also fully understand that for some people it may drive them crazy.
If you are the type to worry about marks in the stone or be panicked every time someone puts a cup down, then perhaps this isn't the material for you. The good news for you however, is that we offer plenty of products that are more maintenance friendly in our current stock. Products such as quartz from Radianz, Cullifords quartz or ultra compact surfaces from Sapienstone. There are also a plethora of granite or quartzite options that you can see at our yard in full.
At Cullifords, we inspire the customer to make informed choices about stone. So, if you have an upcoming project requiring stone slab or tile, contact Cullifords . Our yard is open and waiting for you to find your perfect material.
This blog was written by Matthew Leary, Business Development Manager at Cullifords. For any questions regarding the use of marble in a kitchen environment, feel free to email matthew@geraldculliford.co.uk
---